Recognition and treatment of Anaphylactic Shock is required to ensure that patients receive a high standard of care from trained and professional practitioners, in line with legal and professional requirements

(NMC code of professional conduct 2008)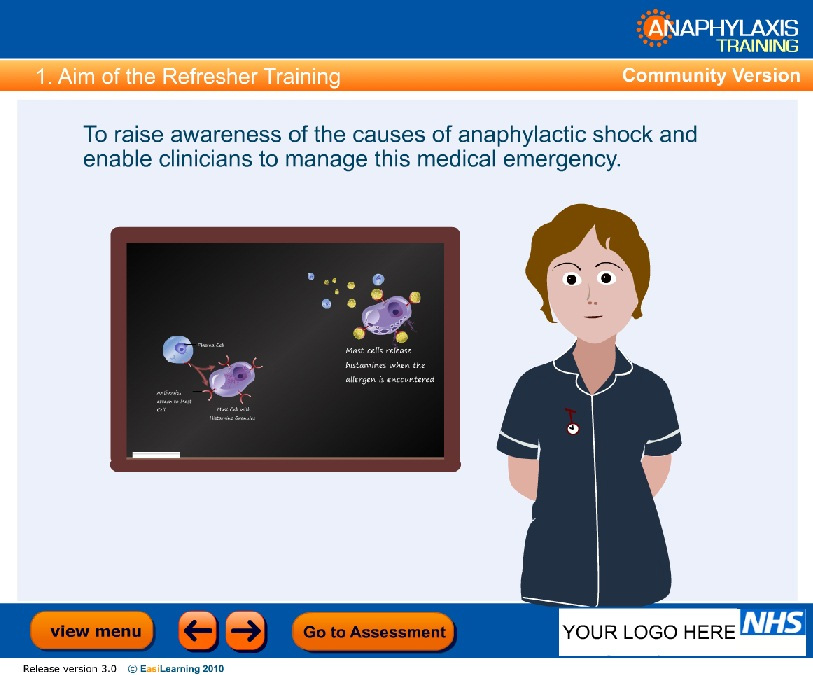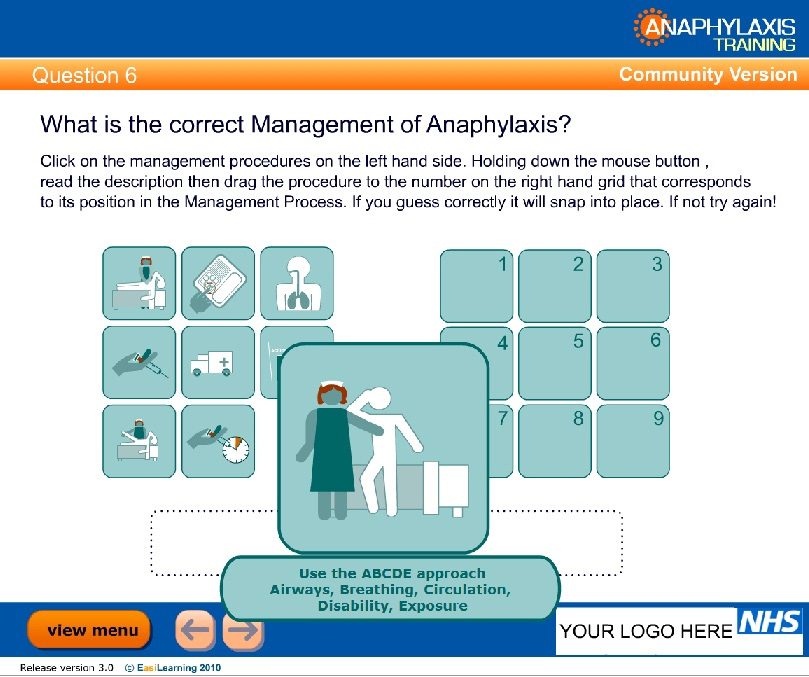 How this course can help you:
According to the UK Resuscitation Council (January 2008), the incidence of anaphylaxis is increasing and there is confusion about the diagnosis, treatment, investigation and follow-up of patients who have an anaphylactic reaction.
This interactive e-learning course is designed to enable personnel from healthcare organisations to understand, recognise and treat Anaphylactic Shock. It is intended to be used as refresher training, and is not suitable for new staff who should attend traditional classroom training. Available for both Community and Hospitals settings. It is aimed at staff who are trained and qualified to provide intra-muscular adrenaline.
Learning Outcomes:
By the end of the course you will be able to:
Define the term anaphylaxis
Identify triggers that could cause an anaphylactic reaction
Describe the signs & symptoms of an anaphylactic reaction
Describe the management of a patient in an anaphylactic reaction
State the dose of adrenaline to be administered to a child and an adult.
Benefits of the course:
Available 24 by 7 from an Internet connected PC*
Easy and fun to use, even for staff not familiar with the use of computers
Easier to train a higher proportion of clinical staff (and hence a direct benefit to patients)
Reduces risk to the organisation of having untrained staff exposed to a potential clinical emergency
Simplifies record keeping as to who has been trained and when
Frees up staff time for clinical duties
Includes an assessment and Certificate on completion. Some questions are randomised so that staff repeating the course cannot simply remember the position of the correct answer
Can be used in parallel to existing face to face training, and offered as an option to staff
A good way to evaluate the benefits of adopting e-learning as one approach to CPD
Simple to set up and operate
Tailored introduction from a senior officer of the organisation such as the Director of Nursing and a certificate with the organisation logo
Try a short demonstration:
To see a short extract from the course:
Community version click here
Hospitals version click here
EasiLearning courses are already used by some 70 organisations throughout the UK. The Anaphylactic Shock courses have been updated in line with 2008 and remains unchanged by 2010 UK Resuscitation Council guidelines
* PC requires Adobe Flash Reader V9 or later and connection to a printer.